My team's hitting a nice cadence with releases and following our Baseball Extras launch in June we built an experience optimized for the football fan. As product manager it always feels great to ship… but to see your product well received but customers and the press is absolutely golden.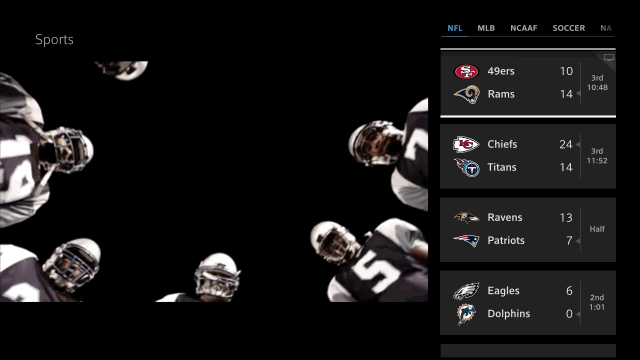 Here's an excerpt from my official announcement:
For the NFL and NCAA football season, we're making the X1 Sports app the ultimate football companion. We are dramatically enhancing the experience for football fans, providing more data, real-time stats and visualizations, than ever before: pre-game player and team comparisons, injury reports, fantasy stats and leaders, win/loss probabilities to full post-game analysis including drive chart summary.
What's more to get the word out we're traveling around the country (SF, Boston, DC, Seattle, Chicago, Pittsburg, Atlanta, and Philly) where we're joined by home town athletes to talk about what this means for fans in that city. It's a blast not only showing off my team's great work but meeting some of the NFL's finest.

Here's a roundup from the events:
Had a great time at @SportsAuthField with @Xfinity talking about the #X1 Sports App. pic.twitter.com/HMGvv0EvmK

— mark schlereth (@markschlereth) September 2, 2015
.@comcast X1 Sports App Allows Fans To Follow NFL Stats No Matter What's On TV: http://t.co/5BmuscCCCr #sportstech pic.twitter.com/P3R8tGxKrn — SportTechie (@SportTechie) September 1, 2015
Comcast beefs up X1 Sports app with Xbox One-like fantasy football sidebar: http://t.co/catP4hDFv6 pic.twitter.com/nGWbVAdWae — Taylor Soper (@Taylor_Soper) September 3, 2015
Got to check out the latest eye candy to @XFINITY TV sports coverage during a demo at @LevisStadium http://t.co/0DESoP0lex — Derek Walter (@derekwalter) August 27, 2015
Spent the morning demoing something every sports fan needs – the #X1 Sports App. Thanks for having me, @XFINITY. pic.twitter.com/QZZVQI5kYe — Chris Cooley (@thecooleyzone) August 28, 2015
Had a great day @LevisStadium with @XFINITY talking about the #X1 Sports App. pic.twitter.com/m8LsG9Dj5C — Dwight Clark (@DwightC87) August 27, 2015